Challenge yourself to go that bit farther...
Congratulations Laura and Stevie!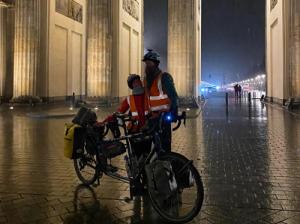 Congratulations to the AUK members Laura and Stevie, the new round-the-world-on-a-tandem record holders. The ride was completed in Berlin on 1st December after 180 days, 12 hours and 25 minutes -  and 18,078 miles! You can read more about this epic ride on Facebook or on their website - and well done to everyone who supported this great effort
---
PBP 2023

The next classic ride is Paris-Brest-Paris 2023, 1200km across northern France, with more than 5000 riders and a tremendous atmosphere as the French villagers turn out in droves to support the event (more free coffee and crepes than you will ever need!). We've added some details about entering - which is a little complex as you have to qualify by completing a series of rides first - here.
Audax UK PBP Jerseys are now available for purchase - see this news item
---
Get Started!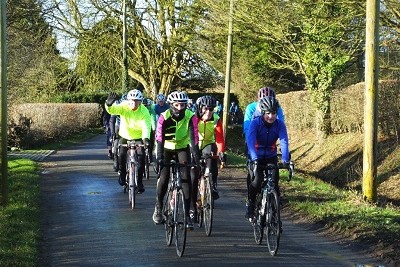 The Flapjack from Chippenham.
New to Audax? Audax UK is the world's largest long-distance cycling club, with a great range of rides from the short(ish) to the very (very) long. Find out what it's all about in New to Audax, then come and join us for a ride.
Rider of the Month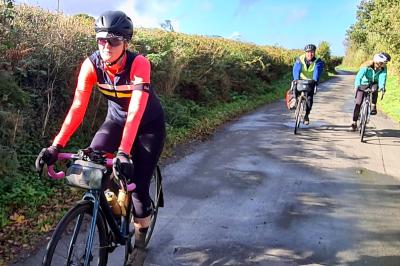 Here's Clare Humphreys on the
Dartmoor Devil
. She rode the 2021 event but was getting blown off the road on the way to Princetown, so abandoned for her own safety, In 2022 she returned on a very blustery day to take on the Devil once more. She was elated to get to Princetown with a few minutes in hand, and carry on up the three final climbs to a successful finish at Bovey Tracey.
Riders of the month archive
---
Covid-19 Update
Although restrictions have now been very significantly eased, there are still some risks which are being considered and managed for our events.  Please check out this dedicated page with a summary of any current restrictions for each part of the UK and this one with all the guidance, behaviour code and risk assessment documents.
The item has been added to your basket
Click on the basket icon above to go to checkout