Lockdown 2020-2021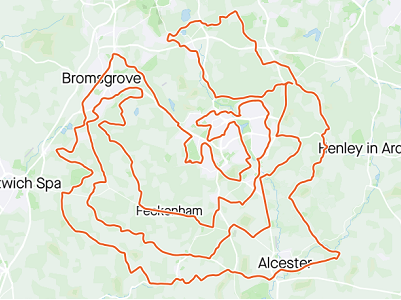 Never further than 20km from home..
This month (actually several months!) we have brought you a ride rather than a rider. This DIY route was completed back in November by Louise but it seems very relevant again for anyone wondering how to complete a 200km ride within their "tier area".
September 2020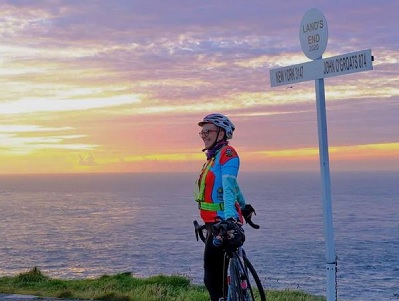 Many congratulations to AUK member Marcia for her world record LEJOGLE ride (currently being validated) She started out on 23 August and was followed for the next 11 days by an army of dot-watchers. The weather wasn't kind, but she pedalled on and in doing so raised over £10,000 for Solent Mind charity. More about Marcia's cycling exploits here.
August 2020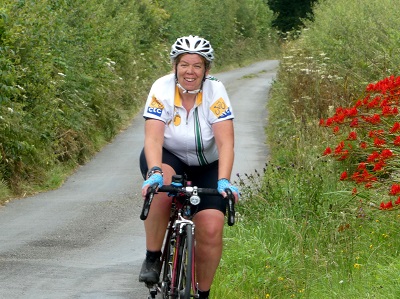 Shore to Moor 200 at Thorndon.
Sarah on a DIY version of Shore to Moor 200km in Devon. Having unfortunately failed to finish in time twice previously (first time it was too hot and the next "the hills felt like mountains"), she was determined not to be beaten when it was cancelled due to Covid. Riding as a DIY, this time she breezed round with plenty of time in hand, with supporting company including photographer Graham and co-rider John.
June-July 2020
Rider of the Pandemic - In the absence of any real events, this month we are pleased to introduce Mousie, tackling his first Audax (and a 400km at that). Thanks to the talented Sarah Freeman for this wonderful animation.
April-May 2020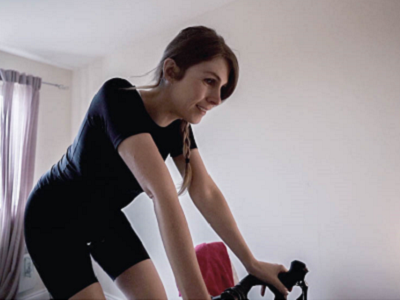 Katie riding the "lockdown 200" on Zwift - no points, no brevet card, no validation .... just hot, sweaty and boring scenery! Check out Katie's YouTube channel and maybe relive some audax rides whilst you can't get out there for real.
March 2020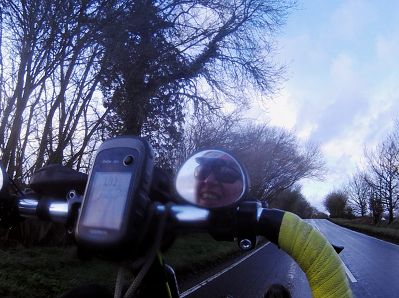 A self-portrait from Phil Whitehurst on a very wet (53 mm rain that day!) Brazier's Run from Victoria CC. Their mission statement is "passionate about cycling, cake and coffee", which sounds like a proper cycling club! 
February 2020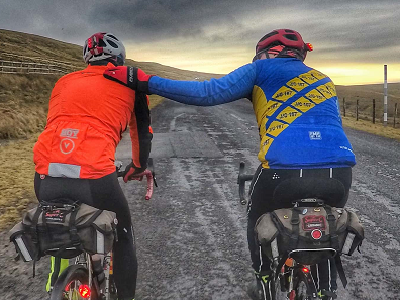 Sporting matching Carradice, Mick and Rob from VC167 under a grey sky on Dean Clementson's Yad Moss/St Moritz 200km January event
January 2020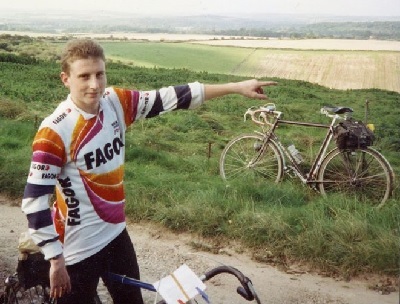 Congratulations to Paul Whitehead, of AUK and Audax Club Portsmouth, who has just joined the 300,000 mile club. Not all Audax, but a fair chunk will have been. The photograph shows a younger version of Paul, when he was only 12,000 miles into the project. If you fancy having a go yourself, take a look at this website
December 2019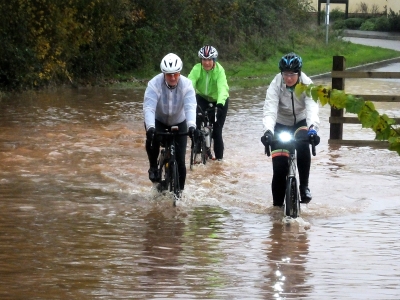 It takes more than a bit of water to stop an audaxer! A tricky section on a very damp edition of Sarah Britton's Breakfast in Bampton ride, but lots of successful finishers and a good time had by all. Probably took a couple of days to dry out the cycling shoes though...
November 2019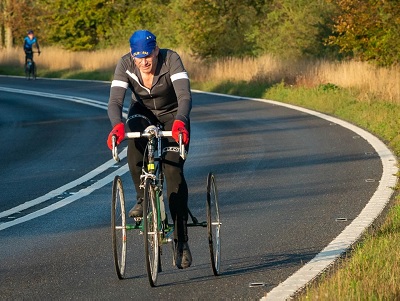 Dave Minter on a classic machine riding the Cambridge Autumnal - and making it look easy...
Why would it be hard to ride a tricycle? "Imagine riding a sailing catamaran on the road. Like a catamaran, the trike won't lean into a turn, but will lift a side up into the air. Simple turns can become tippy, exhilarating stunts". (more at Classic Cycle)
October 2019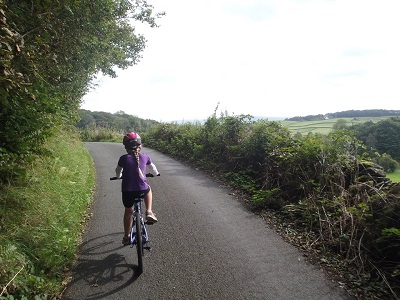 Emily's 50km DIY Cumbria.
From last month's PBP 2019 riders to a possible entrant for PBP 2031? This is Emily (age 8) on her fifth 50km DIY ride in Cumbria, and now the proud holder of a Brevet 250 award. Apparently she is already familiar with the supermarket car park picnic stop and has been known to say "it's not on Strava so we haven't done it yet"!
September 2019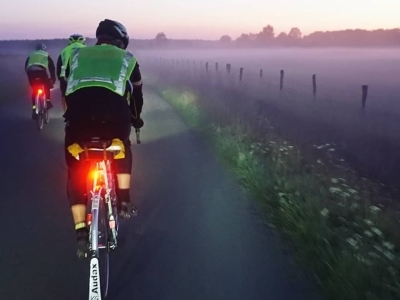 The final misty morning run from Dreux to Rambouillet - PBP 2019.
All those who took part in PBP 2019. As we can't publish a photo of everyone, here is an unknown rider on a misty morning on the final stage. Thanks to Graham Brodie for the picture (Graham completed the ride in 87 hours and still found time for photography!). Congratulations to all AUK riders who finished and commiserations to those who didn't.
August 2019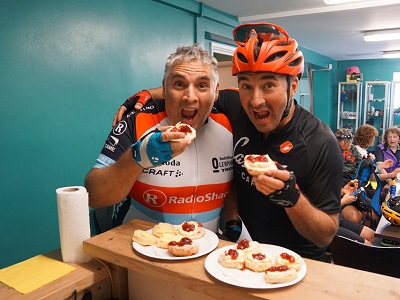 Brothers Andrew and Jonty tucking into a Devon Delicacy (or three!) at the end of the Devon Delight 100km from Newton Abbot, organised by Graham Brodie. This popular ride runs on the same day as a 200km event with 3 AAA points. Not yet in next year's calendar but if you can't resist a scone keep a look out when the new season's rides are published.
July 2019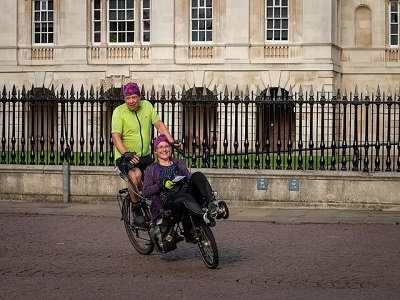 Fenland Friends June 2019.
Janet and Duncan on the Pino tandem riding through Cambridge on the first leg of Fenland Friends 600km (possibly smiling as they haven't yet encountered the endless cabbage fields). This was their second successful 600km and the last of their qualifying rides for PBP. Bonne route!
June 2019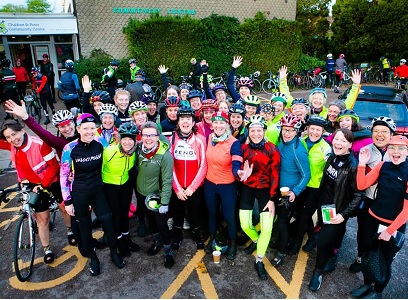 London Wales London 2019.
The women who rode London-Wales-London on 4th May - probably the highest proportion of women ever entering a longer AUK event, partly thanks to encouragement from organiser Liam FitzPatrick. Of course all the women then actually had to ride their bikes - a task not made any easier by the unseasonal cold weather overnight. Chapeau all.
May 2019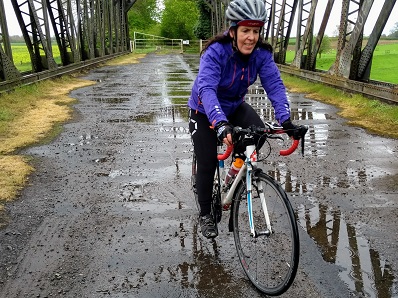 Anita on Dean Clementson's Overground Underground 50km ride from Newby Wiske. Looks a little damp, but a good day was had by all. Dean's next ride is the 400km Great North Road, starting from Cockerton, Darlington
April 2019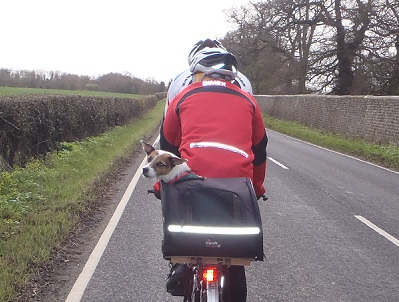 Or maybe this month's passenger? This is Chalky, on VC167's Ripon Canter 100km, with Vicki and Paul doing the work. March was unusually warm this year, which should have helped the riders, but on the other hand we had storms Freya and Gareth to contend with, which made things trickier!
March 2019
On the road between Auchterarder and Dunning.
Graeme Wyllie testing the route for his 400km Auld Alliance ride, which will run in April. This is taken on the road between Auchterarder and Dunning, but if you enter the event, you'll be doing this part in the dark! Graeme's description of his ride is on yacf
February 2019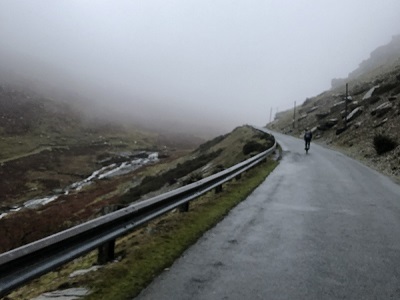 Bleak, misty and a bit mysterious - the feel of a winter Audax in the mid-Wales hills. This is from Andy Cox's Taith Mynydd Canolbarth Cymru 212 km. Andy's next rides are the The Towy & Ystwyth Explorer and Meirionydd & More, both starting from Aberyswyth
January 2019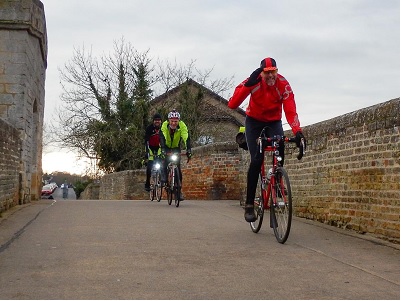 Audax stalwart Tom Deakins crossing the Bridge at St Ives with an Audax Club Mid Essex group on his Boudicca's Revenge 200 km perm. ACME was only founded in 2016 but already has a full programme of rides.
December 2018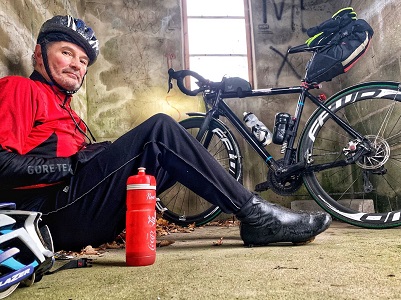 Ivor relaxing in an Audax Hotel on the Moonrakers and Sunseekers 300km ride through the night from Bristol to the coast at Poole. Organised by Great Western Randonnées with support from Audax Club Bristol
November 2018
Velomobile in action Cambridge Autumnal 200.
En route to Newmarket on the Cambridge Autumnal - not surprisingly Ian got home first. There was a big turnout for both the 100km and 200km events, which ran from Cambridge into Suffolk and back to the Arrivee in Girton Village Hall, with Ewa's now-legendary soup and baking. Ride organised by Cambridge Audax