ACP Super Randonnée Events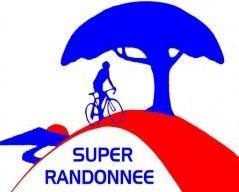 A Super Randonnée (not to be confused with the Super Randonneur events series) is a permanent event organised within the auspices of Audax Club Parisien (ACP), who verify and validate completed rides. There are Super Randonnée event routes in many countries including those organised by AUK, on behalf of ACP, in Britain. There are Randonneur and Tourist versions of each of these events.
Super Randonnées are located in mountainous (or, in Britain, at least hilly!).areas. They are about 600 km (373 miles) long and require climbing to be over 10,000 m (32,800 feet).
The spirit of the Super Randonnée is based on freedom and maturity of the riders. The ethos of these events is self-sufficiency. You may choose your start date and time, how you get organised, what you put in your bags, how you manage your time, if you sleep at a hotel or in a sleeping bag or not at all. You have no obligation other than to make the overall time (according to the option chosen (Randonneur or Tourist), to collect 'proof of passage' on the way and to do the ride without the support of a vehicle, which is totally forbidden anywhere on the route or at control locations. Secret controls may occur at the start and during the ride.
The UK rides are:
How to enter and take part in a Super Randonnée in the UK
You may ride:
Any form of human-powered vehicle.
Alone or in a group.
At any time of the year (make sure the roads are open!)
The Super Randonnée Randonneur version must be completed in 60 hours
The Super Randonnée Tourist version must be completed at a minimum average of 75 km per day.
Super Randonnée events cannot be counted as participation in, or as a credit for another event held in conjunction with the Super Randonnée and may not be ridden at the same time and on the same route (or part route) as a BP, BR or BRM event of 600 km.
Decide whether you want to ride as a Randonneur or a Tourist and click on one of the events listed. Randonneurs must select a start date, but you may vary this before your chosen date providing you notify any change to the organiser before that date. Tourists may start on any date
If you have registered as a Randonneur you must start from the official starting point.
Tourists may choose any other starting point on the route sheet, but must notify the organiser of this before starting.
You will receive a personal SR brevet card and a frame plate. Both need to be kept throughout the ride with the frame plate displayed on your bike. On the brevet card, the requested information (name, first name, address etc.) must be completed, together with the start and finish date and time (day, hour, minute), and the time of passage at all intermediate control places (hour, minute).
Proof of passage at the control places shall be by taking a photograph of your bike with the frame plate displayed at the places designated by the organiser (unless you want a set of 'selfies' you do not have to be in the photographs – just your bike!). You will be provided with detailed information about the places where to take the control pictures. If circumstances permit, you may have your brevet card stamped at an establishment located at the control place, instead of taking a photograph. The stamp must show the name of the control place, otherwise it is not valid. Missing photographs (if not replaced by stamps), missing control times, or loss of the brevet card, regardless of how far you are into the ride, will result in disqualification.
If you enter as a Randonneur and finish outside the 60 hour time limit, but within the time limit for Tourists, AUK will validate (and ACP will homologate) your ride as a successful Tourist Super Randonnée.

More information
The item has been added to your basket
Click on the basket icon above to go to checkout