Audax UK: Challenge yourself to go that bit farther
Get Started!
New to Audax? Audax UK is the world's largest long-distance cycling club, with a great range of rides from the short(ish) to the very (very) long. Find out what it's all about in New to Audax, then come and join us for a ride
This Month's Rides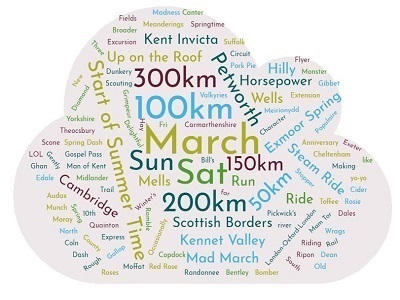 Hopefully the March winds won't all be againsterlies and the clouds won't be dark and rainy. There are 57 varieties of ride this month, from 50km to 300km. There are more 200km PBP qualifiers and three 300km events starting with AC Hackney's The Dean and Black Sheep CC's A Rough Diamond, both on March 16th.
This Month's Rider
On the road between Auchterarder and Dunning.
Graeme Wyllie testing the route for his 400km Auld Alliance ride, which will run in April. This is taken on the road between Auchterarder and Dunning, but if you enter the event, you'll be doing this part in the dark! Graeme's description of his ride is on yacf
Rides

Calendar events so far this season...
Km

...keep up the good work!
Please note that whilst this website is in development, entering events and viewing results will redirect to the previous Audax UK website.