Challenge yourself to go that bit farther...
New Event Entry Screens
The event entry screens have now changed. For non-members, you will need to register with Audax UK before entering an event. Registration is free, will ensure that we have accurate contact details for you and save time when entering subsequent events. It also means that should you later become a full member we can add your completed events to your ride history.
For existing members, the process should be straightforward,  but if you have not accepted the terms and conditions for entering rides already, please log in, go to "My Account", "Membership Details", review and click the "accept" button . This is a one-off exercise unless we update the terms and is intended to make any changes more obvious. With the new screens you will be able to enter multiple members of your household in a single session, including junior members without providing an additional signed paper form.
Postal and on the line entry are still available.
More details are in this news article.
---
New Medals and Badges are here!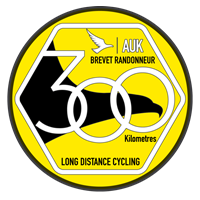 New-style distance badges are now available from the
Medals and Badges store
- these are for rides completed in the 2022 season. We also have a new format - as well as traditional cloth badges for your Carradice, and medals, you can now get a fridge magnet to impress your household. If it's barred from the fridge you can of course choose any other steel surface, but maybe not your 531 tubing...
---
Get Started!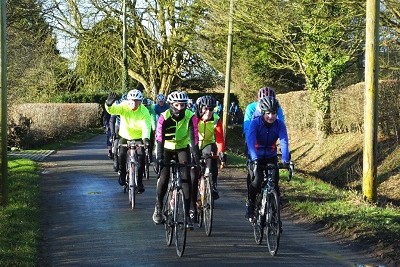 The Flapjack from Chippenham.
New to Audax? Audax UK is the world's largest long-distance cycling club, with a great range of rides from the short(ish) to the very (very) long. Find out what it's all about in New to Audax, then come and join us for a ride.
Rider of the Month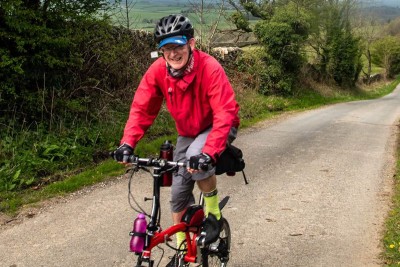 Geoff first rode Audax 30 years ago when he and his ife entered a couple of National 400s, but after completing a few more 300 & 400 km events the arrival of a dog put an end to Audax. Since selling most of his bikes he is trying Audax again on his Brompton-  the latest was 'A Bit Dented' which because of the strong winds was tough.
Bromptons are great but not very fast, so Geoff was always chasing the clock
Riders of the month archive
---
Covid-19 Update
Although restrictions have now been very significantly eased, there are still some risks which are being considered and managed for our events.  Please check out this dedicated page with a summary of any current restrictions for each part of the UK and this one with all the guidance, behaviour code and risk assessment documents.
The item has been added to your basket
Click on the basket icon above to go to checkout